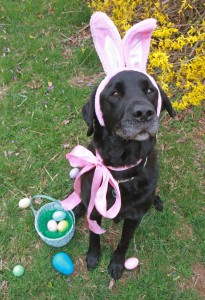 Easter weekend is here and sadly this means that shelters and rescue groups will soon be flooded with rabbits and chicks—impulse gifts for children that quickly lose their appeal after the animals quickly mature into adults requiring daily care.
Companion animals—cats, dogs, bunnies, fish and hamsters—should never be given as gifts under the Christmas tree or in an Easter basket.  A pet is a long-term commitment of time, money and energy.
A quick Google search this morning of the keywords: "rabbits as gifts" revealed numerous articles in daily/weekly newspapers and blogs cautioning impulse gifting of Easter bunnies. Has your shelter or rescue group issued a press release to local media on this topic? If not – no worries! You can start now to capitalize on other upcoming seasonal topics that your local media will be interested in.
Here are a few ideas:
In 2012, AAA projected 34.8 million Americans will travel 50 miles or more from home during the Memorial Day holiday weekend. That's a lot of folks on the roads, and many travel with a pet. Now is the time to start putting together a press release that provides tips on traveling with a pet.
Spring is "kitten season" the time of year when shelters are flooded with litters. Provide your community with information about spay/neuter and Trap-Neuter-Return for feral cats.
Although it seems like yesterday that we changed the clocks to 'spring forward' it won't be long before the temperatures rise and summer is upon us. It's vital to educate pet owners about the importance of taking precautions for pets in hot weather. Safety tips—including never leaving a pet in a hot car and points to prevent high-rise syndrome in the cities—are important messages to get out via the media starting in early May. And don't forget to use social media as a tool to disseminate information and tips.
Need more ideas? Drop us a line!
- Patricia