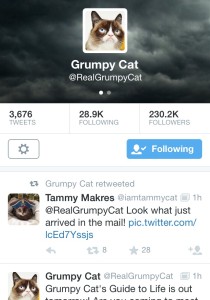 Grumpy Cat is coming to New York City this week and New Yorkers will have the chance to have their photo taken with the world's most recognized sourpuss and buy a copy of her latest book.
We asked Sarah Binney, a journalism graduate who recently moved to New York from Australia, to report on Grumpy Cat's astronomical rise to fame. Sarah shares her views on the implications of Grumpy Cat's brilliant social media marketing that helped her gain universal recognition and create a mega successful brand.
Guess who's coming to NYC?
by Sarah Binney
While celebrity spotting and star-studded events are a natural occurrence in the world's most iconic city, this week's celebrity visit sees a different breed of superstar generating buzz among her legions of adoring fans.
It is none other than our favorite, squashy faced feline, Grumpy Cat. Unknown
That's right, the most recognized cat in the world will be visiting Barnes and Noble in Union Square this Thursday, giving patrons the opportunity to purchase "The Grumpy Guide to Life" and have their photo taken with the cranky faced puss.
The fact that Grumpy Cat's publication warrants an in person (or in cat?) visit to a venue typically graced by respected authors and world renowned celebrities is a testament to the phenomenal success of the "Grumpy Cat" brand.
Grumpy Cat – real name Tardar Sauce – has been a goldmine for her owners. She has her own range of merchandise including plush toys, books, mugs, iPhone apps and is even set to star in her own Christmas movie "Grumpy Cat's Worst Christmas Ever" (giving us one more reason to look forward to the holiday season).
She earns $42,000 a year in YouTube ad revenue alone and commands a six figure appearance fee. These estimations don't include profits from merchandise sales and acting roles. That's about an entry level salary, but she didn't even need to slog it out at University like the rest of us commoners to get it.
The most intriguing aspect of Grumpy Cat's remarkable rise to stardom is that her status was, in short, decided directly by the social media masses and propelled exponentially by the viral nature of the Internet.
Her photo was uploaded to social networking site Reddit in September 2012 and posted to YouTube shortly after, generating over one million views in the first 36 hours. It's clear that Grumpy Cat's unique expression and relatable humor means she has out-memed all memes and out-shone all other cat celebrities.Unknown-1
Grumpy Cat's success proves how social media users have created a whole new beast in deciding that cats are to be a prominent feature in the ever popular meme culture. The online community is directly responsible for creating an entire league of cat celebrities and have popularized other kitty names such as Maru, Little Bub and Henri the Existential Cat.
While cat lovers have always been enamored with their feline friend's quirkier traits, the whole world is now being exposed to them as well. The public are clearly jumping on the cat bandwagon and it's often been said that cats rule the Internet, so much so that it's been referred to as the 'cat propaganda machine' ruled by our feline overlords. Cat lovers rejoice!
This crazy popularity can mean serious business (and a serious cash flow) for a few lucky cat owners. In fact, the cat celebrity trade has proved so lucrative that Amazon now sells a book called "How to Make Your Cat an Internet Celebrity: A Guide to Financial Freedom". In case you were wondering.
The age of the cat celebrity demonstrates how Internet and meme popularity is no longer confined to the invisible and purely 'online' world. If something can set social media on fire and become a viral success story, you can be rest assured it will also permeate everyday culture through mainstream media coverage, and in the case of Grumpy Cat, book deals, merchandise sales and celebrity appearances.
This has massive implications for communications professionals, especially those working in the pet industry.
photo.PNGGrumpy Cat proves how the channels traditionally used for effective communication have been redefined in modern society. Social media is now a key part of any communications strategy in connecting and promoting content, as users of these platforms have a direct influence on shaping popular culture. The ability of content to go viral is a major factor in determining a campaign's success.
Unfortunately, there is no secret tried and true formula to 'make something go viral'. Content can be incredibly popular one day and fall flat on its face the next for no apparent reason.
Despite this, Grumpy Cat and other cat celebrities' success can teach us some valuable lessons. Find unique and humorous content, connect the content with the right audience and capitalize on online popularity via real world applications.
For PR firms working with animals and animal welfare groups, Grumpy Cat's story is a shining example of how social media can define the popular trends of the time, and how communication has been redefined in the digital age. Most importantly though, she is just so darn cute!
###
Sarah is an animal lover who writes about politics, society, culture and most importantly – cats! You can read more of her stories at www.thenewspeg.com and follow her on Twitter @sarahbinney