I'm always inspired when I see people embrace their entrepreneurial spirit and make the world a better place for others and that certainly includes animals. This week, I am excited to have the opportunity to share with you one success story from Paws PR Communications Associate, Bariann Browne, who was an integral part of the publication of the new book, Metal Cats. This adorable book combines the extreme look of hardcore-metal musicians and their soft, feline friends. I asked Bariann to share her story with all of you. I'm inspired by her passion and dedication to making the world a better place for animals! ~ Patricia
Tell me how you got involved with Metal Cats?
On Facebook, I saw a post about a photographer, Alexandra Crockett, who had launched a Kickstarter campaign to fund her photography book featuring metal musicians and their cats.
I admired Alex's positive spirit and the fact that she had taken on this project by herself. Plus, I was excited at the possibility to mobilize a community frequently maligned by mainstream society for a great cause I felt strongly about – animals! At the time, I was working full-time at a PR firm and I reached out to Alex to volunteer my services as a publicist and marketer. We hit it off from our first conversation and began work right away!
What was your role with the book?
I worked with Alexandra on all facets of marketing. As a publicist, I knew this book would garner attention simply because of the unique theme. The images are a powerful tool in shattering the myths about metal. The first press release I sent out referenced the Internet's obsession with cats. Who doesn't love cats?
I also had the honor of writing the introduction for the book. A first for me! I was so excited to support this important project.
What's your favorite photo in the book and why?
My favorite photo is the image chosen for the cover. The purpose of those photos was to show a stark difference between the individual and his surroundings, to remind us of two completely separate cultures and providing a sense of shock. Alex's photo shows a smoky-eyed musician against a backdrop of an urban building, a juxtaposition of themes. Then you see the cat cradled in his arms. It connects the opposing elements by defying expectations. These guys are not at war against society. They love cats just like everyone else.
What are your hopes for the book?
The public's perception of metal music stereotypes the musicians and their fans as being dark, Satan-worshipping drug addicts. Metal isn't all dark and disturbing, violent and misanthropic. Metal Cats is proof that while the music may be brutal, the musicians and fans are real people who share their homes with four-legged friends just like the rest of us!
I hope the book helps shatter the stigma of metal musicians as being intimidating and takes away any fear, trepidation, or pre-judgment people may have. I also hope it allows musicians to more publicly embrace their softer sides.
However, the true stars of the book are the cats. A portion of the proceeds from the book and as well as a series of benefit shows held along the West Coast will go towards one no-kill shelter in each of the four main home-cities of the participating musicians..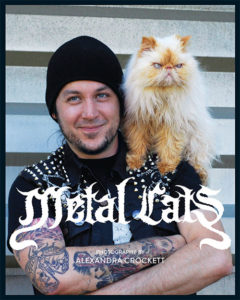 I like to think of it as a call to action in so many different ways. It should empower people of all ages, genres, and subcultures to do the right thing when they close the book. I also hope the book inspires others to follow their heart and their passion and take a step to make the world a better place!
I know that seeing the book being published is a dream come true for you. What's your advice for readers who may have a creative project idea but don't know where to start?
Don't be afraid to ask for help! The response may surprise you. There has been a tremendous outpouring of support for this book, solely because of its message and its stance on animal welfare. If you believe in something, you can make it happen, just don't give up! Alex and I were frustrated at times, but our patience proved to be worth it in the end.
Where can we get a copy of Metal Cats?
You can preorder a copy of the book from Amazon! http://www.amazon.com/Metal-Cats-Alexandra-Crockett/dp/1576876772
Have a question? Tweet us @PawsPR
Paws PR is a pet PR and marketing firm that promotes pet product companies and animal welfare groups with offices in New York City and Baltimore, MD. www.PawsPR.com