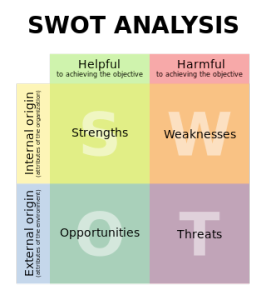 SWOTEvery good marketing campaign involves strategic planning. There are many tools and models that we use to help clients think through the effectiveness of their various campaigns in order to make informed decisions when planning. One tool we like to use is a simple analysis pattern commonly referred to as SWOT analysis.
SWOT is an acronym that stands for Strengths, Weaknesses, Opportunities, and Threats. Okay, so what does this mean and how can I use this practically? I'm glad you asked!  SWOT analysis is a helpful planning tool that, once you get familiar with it, you can use for any campaign, new product, segment of your business, or even your business as a whole. A SWOT analysis would look something like this:
Say you're considering launching a new pet product. It is important to consider the internal strengths and weaknesses of the product itself as well as the external conditions that could provide opportunities for or threats to the release of your new product. A SWOT analysis in this case might answer questions like this:
Strengths: How does this product stand out in the marketplace? What about this product is marketable? Why is this product valuable to consumers?
Weaknesses: What about this product seems disadvantageous? Is this product still in its initial stages? What about manufacturing/shipping costs?
Opportunities: What could help this product sell? Does my company already have a large base of loyal customers who are receptive to new product releases? Is the public's perception of this product positive?
Threats: Is the product category cluttered with similar items or lines? Is the target market difficult to reach?
A SWOT analysis doesn't have to end up being a 20-page analysis. It is a simple tool that can help your business think through a new idea and make informed decisions about how to move forward. For example, after doing SWOT analysis of your company you may realize that a threat to your company is that the marketplace is cluttered with many similar items. Recognizing this will be beneficial in helping you think through new ways you can market yourself to stand out even more from the competition.
We want your input! What are some helpful marketing strategy and planning tools that you enjoy using? Tweet us @PawsPR
~ Grace Logsdon