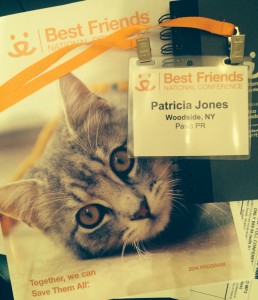 From the Desk of Paws PR President & Founder, Patricia Jones:
Last week, I attended the Best Friends Animal Society's National Conference and 30th Anniversary Celebration in Las Vegas.

I was inspired to meet with so many compassionate individuals who work on the front lines to save animals.
Over 1,700 people attended the conference—each one integral in the collective effort to –as best articulated by our conference host: Save Them All®.
I connected with old clients and friends including Buzz Miller, founder of PACT for Animals (People/Animals = Companions Together) in Philadelphia and Samantha Johnson who is a volunteer coordinator for a local municipal shelter in Florida. Samantha was attending to learn what is new in the rescue community and how she could expand her own shelters' rescue practices.
I had the honor of meeting Jackson Galaxy, host of My Cat From Hell on Animal Planet and co-author of the bestselling book, Catification. I've written video scripts for Public Service Announcements that Jackson has done on behalf of my client Alley Cat Allies, so it was nice to finally meet him and his team in person. Jackson was kind enough to autograph a copy of Catification for the Founder and Executive Director Elizabeth Putsche of Photographers for Animals, a nonprofit of which I am a founding board member.
One of the best parts of conferences is meeting friends you've made via social media. I finally met Peter Wolf, renowned feral cat advocate and author of the blog Vox Felina.
I also had a chance to meet with Jon Dunn, Senior Manager of Policy for Best Friends and also an advisory board member of Photographers for Animals.
Congratulations, Best Friends, on an outstanding conference and 30 remarkable years of helping our animal friends. I'm looking forward to next year's conference in Atlanta! ~ Patricia @PawsPR