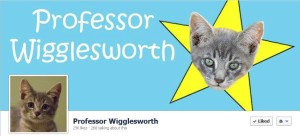 Professor Wigglesworth was found during a video shoot of a Trap-Neuter-Return program in Fredericksburg, Va. He was eight weeks old and had impaired mobility (which turned out to be cerebral hypoplasia, commonly referred to as "CH").
Paws PR and Jason Putsché Photography donated our services to help this little guy find a home. We established a facebook page for Professor Wigglesworth in late July 2012.
Before inviting friends to "like" Professor Wigglesworth through the admin functions, we established a few albums of photos that helped tell his story. Starting with photos from his feral cat colony and followed by an album of his "new house."
Regular updates, most of which included photos or video, were made to the page keeping "fans" up to date on his progress (including overcoming a respiratory infection and ringworm) and helping to captivate people and keep them invested. The sponsoring organization, Alley Cat Allies, shared links to Professor Wigglesworth on their social media sites.
Within three days of the creation of the facebook page Professor Wiggles had over 100 facebook fans and three adoption applications. After two weeks his fans numbered over 200 – with a dedicated following (his most popular post received 113 "likes" and 33 comments).
After Professor Wigglesworth's ringworm cleared he was placed with his first applicant in Rochester, NY. His new family agreed to take over the facebook page to keep his fans abreast of his new adventures.
You can see the full story at www.facebook.com/ProfWigglesworth.
Tips :
Think strategically – even Professor Wigglesworth's name was chosen to help him stand out and describe his condition (wiggly).
Include visuals – we find that photos typically get more "likes" and comments than video.
Interact with your "fans" – the more comments you get on your posts the more facebook users you can reach! (Friends of friends from popping up in News Feeds).
You only need one adopter – but featuring animals on facebook can introduce your organization to a whole new audience.