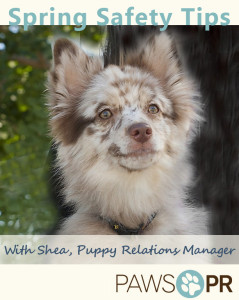 We're excited to introduce a new contributor to the Paws PR Blog. Shea is Puppy Relations manager in the NYC office and he joins us this week to talk about Spring care and safety for pets!
From the Desk of Shea:
SPRING is finally here! No more snowy paws or ice-covered tennis balls. I know pets all over the world are as excited Shea - spring safetyas I am to go outside and play, chase butterflies or roll in the grass (but not too much rolling – no baths please.) As Puppy Relations Manager for the Paws PR team, I want to share some seasonal tips with you and your best friend!
When you are spring cleaning, don't forget us! Our collars and beds probably haven't been thoroughly cleaned in a while, and there's nothing better than freshly washed blankets, still warm from the dryer to curl up on. Our toys need a freshen-up, too. Good news: you can wash most of them in the dishwasher!  Brush me regularly to help me shed my winter coat, especially before and after a bath—not that I need one or anything.
Be choosey about your household cleaning products because most commercial cleaners contain chemicals that could make me sick. Please use eco-friendly, natural cleaning products wherever you can. You'll find some are even marked pet safe! To help both of us, keep me in a separate room while you're scrubbing and wait until all surfaces are completely dry before you let me play. Remember to put away all your supplies in a secure area when you're done.
Achoo! We sometimes have allergies just like you! Since we can't tell you, keep an eye on possible symptoms like frequent scratching or swollen eyes.  A visit to the vet is all we need—over-the-counter allergy medicine is only for humans! We need our own medicine to stay healthy when the dust starts kicking up and the pollen flies.
cropped shea puppySpeaking of the vet, as much as we don't enjoy rearranging our schedules for the doc, spring is the perfect time for a checkup (which should happen once a year minimum). It's also the perfect time to start preventatives including flea, tick and heartworm treatments to keep us healthy. April to November is flea and tick season, and with the additional danger of Lyme disease, we will consider forgiving you for interrupting our nap for a vet visit.
We love when you bring the outside in with bouquets but know which plants are toxic and which ones are safe for us. Some plants not allowed in our house are tulips, lilies, (especially if you have cats-ugh), iris, caladium, azalea, oleander, daffodils, philodendrons, jades, chrysanthemums, and cycads. These are all toxic to pets but there are plenty of other pretty flowers that are Shea-approved!
Your to-do list:
Check in with the veterinarian
Choose non-toxic, pet safe products
Know what plants are safe and keep the phone number for the Pet Poison Helpline handy at all times: 1-800-213-6680
All done? It's playtime! I must go find my blue tennis ball. Bye!
~ Shea