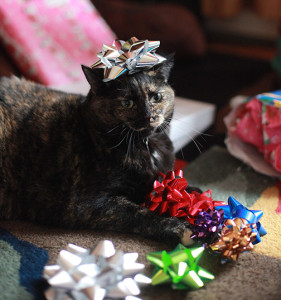 Frank BowsWith all the bustling busyness and excitement of the holidays, we understand that it can be easy to be less diligent in attending to the safety of your pets. To help you out, we've complied some quick and easy tips to ensure that you and your pets have a happy and safe holiday season.
Make sure your Christmas tree is secured so it won't be easy to knock over. Also, keep your pet away from the tree water as it could contain harmful fertilizers or bacteria that would hurt your pet's stomach.
Consider finding an alternative to tinsel. If swallowed, tinsel can lead to an obstructed digestive tract and severe vomiting, which might require surgery to fix.
Keep your pets away from unattended Christmas goodies and plates of food, and make sure your garbage cans have secure lids on them. We wouldn't want your pet to eat anything he or she is not supposed to while you're busy entertaining guests.
Keep wires, batteries, and glass or plastic ornaments away from areas your pets have access to. If your pet tries to chew a wire, he or she could potentially receive a lethal electric shock. Punctured batteries or shards of broken ornaments would also be extremely hazardous to digest.
Don't leave adult beverages unattended where your pet could potentially get to them. Alcohol has extreme negative effects on pets and could lead to weakness, coma, and even death.
Give your pets a quiet space of their own to retreat if the festivities become too much for them. Make sure this place has fresh water and something comfy to rest on.
When you are getting ready to celebrate the New Year, keep in mind that confetti could get lodged in cat's intestines if swallowed, which might require surgery to remove. Nosy poppers also can frighten pets or even cause damage to their ears. We encourage you to celebrate the New Year with your pets, so make sure that there is no loose confetti or loud poppers!
Keeping these things in mind, we have no doubt you and your pets will both have a great Holiday season. Happy Holidays from the Paws PR team, and we look forward to seeing you in the New Year!