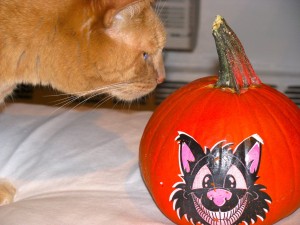 I love Halloween! Every year, I host a festive gathering for friends complete with bowls of candy corn, carved pumpkins and special Witches Brew!
Pet safety always comes first in my house and with Halloween a few days away, I wanted to share these important tips:
Keep trick or treat bag and candy dishes well out of your pets reach. Chocolate can be deadly when ingested by pets and candy containing the artificial sweetener xylitol can be poisonous to dogs.
Throw out all cellophane candy wrappers and treat bags. They can pose a choking hazard or cause intestinal blockage.
If you plan on greeting little ghosts and goblins looking for Tricks or Treats, keep your pets in a safe, quiet room with the door closed. Always keep ID on your pet in case they escape outside.
Jack o' lanterns can singe whiskers and burn noses if tipped over by pets. Consider replacing the candles with a flashlight or battery-powered candles.
If you dress up your pet make sure their vision and breathing is not obstructed and the costume does not restrain movement.
If you really want your pet to enjoy being a part of Halloween activities, look for special events geared specifically towards them such as pet parades or dog run parties.
No matter what your plans this Halloween, stay safe and enjoy the festivities! Tweet us pics of your Halloween fun! @PawsPR
- Patricia